There are two parts to the dashboard overview screen once the campaign has been created. There's a pre-live and post-live phase of the campaign dashboard. Let's explore these in further detail.
Pre-Live Campaign Dashboard
Once you have saved your campaign you will be automatically directed to this dashboard. You'll see information broken out by 5 sections:
Details

- stored information based on proposed costs, briefed costs, objectives, client & brand, buyer and any attachment

Audience

- this is added by the buyer and will the audience targeting requirements for the campaign

Requirements - are made up of billing party information and any specific/unique terms and conditions between both the publisher and buyer
Billing, Fees & Revenue - this section outlines the fees involved for the campaign and revenue generated for you
Trafficking

- this section becomes active once the campaign has been signed off or approved by both parties and allows you to manage the trafficking for your nominated adserver
Post-Live Campaign Dashboard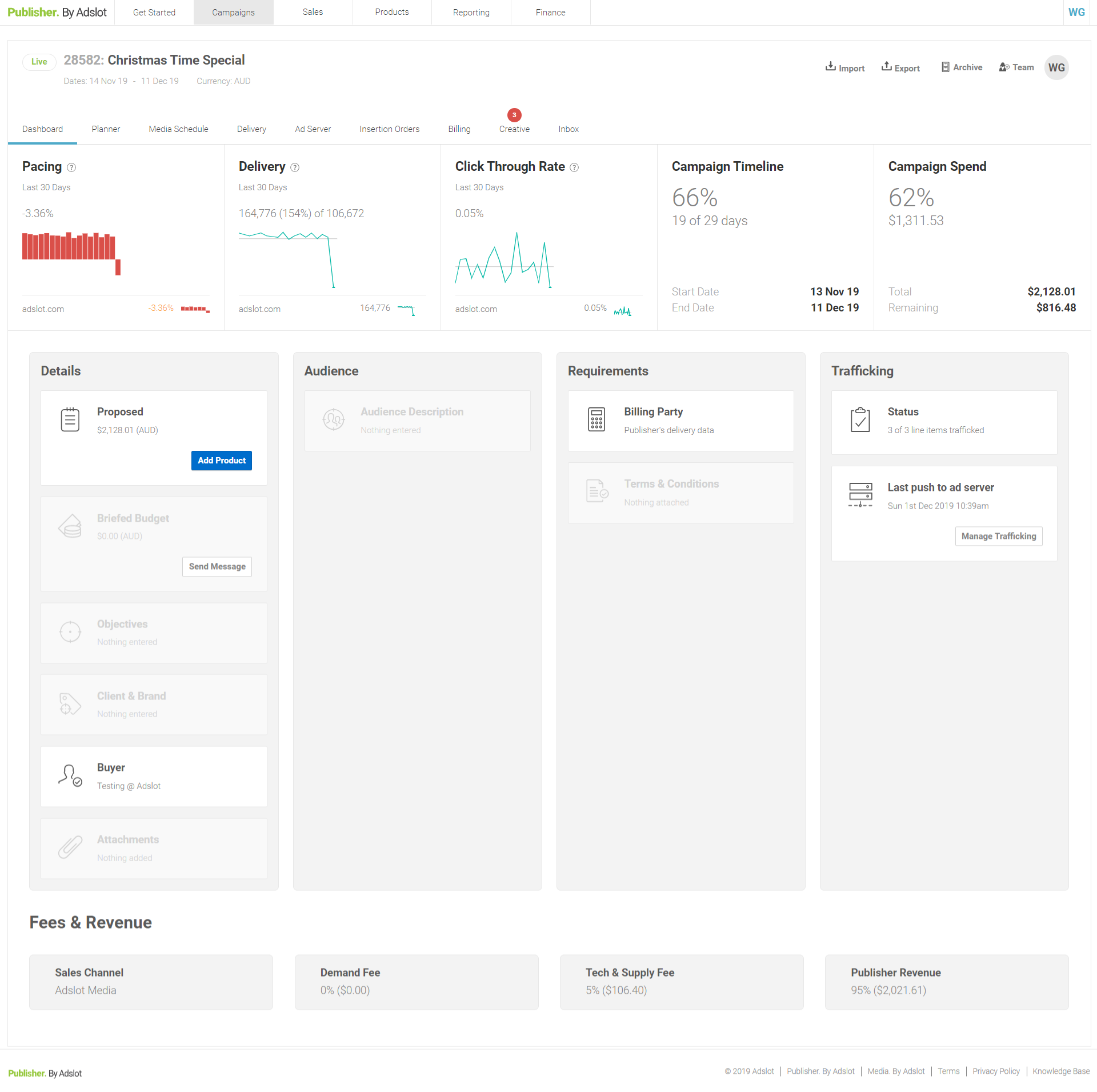 Once the campaign has been approved by both parties and has started you'll notice additional information based on delivery outcomes becomes available for you on the dashboard.
Pacing - provides you a projection of accumulative data from the last 30 days of how the campaign is pacing. Red indicates that attention and action is needed to how impressions are being delivered, orange indicates attention is needed on optimization and green means everything is going to plan
Delivery - if more than one site has been booked it will show a comparison of delivered impressions over time and percentage delivered to booked impressions
Click Through Rate - this shows the click through rate (by site level if applicable) over the last 30 days for the campaign
Campaign Timeline - shows how many days are left in the campaign for delivery
Campaign Spend - how much has been spent based on what was booked to date